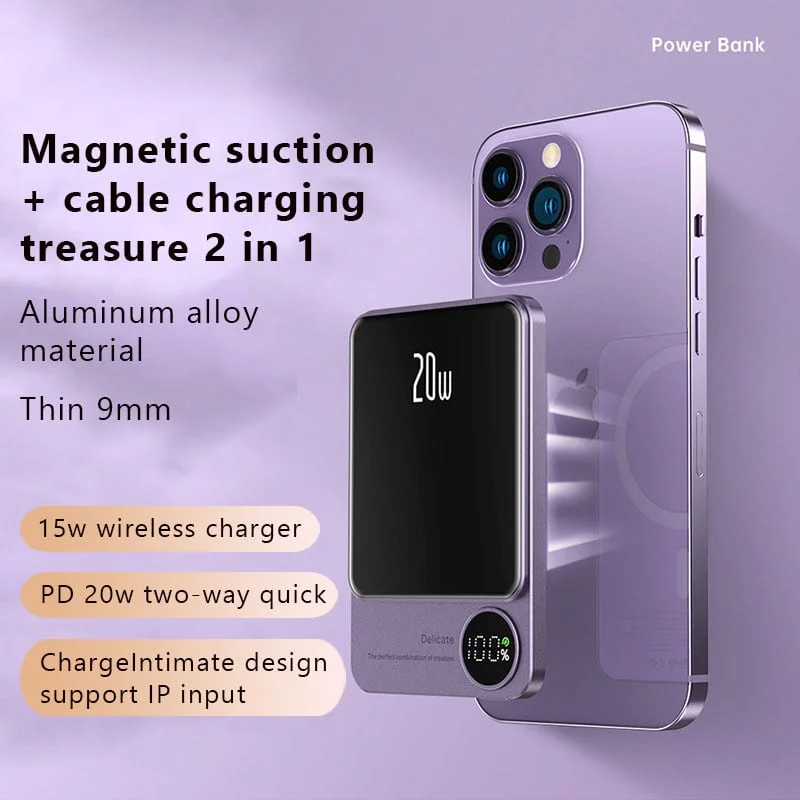 ${data.index + 1}/8
Wireless Power Bank
Wireless Power Bank
PD20W bidirectional fast charge
15W Magnetic Wireless Charger
5000mAh/10000mAh
Ultra-thin aluminum alloy material
10mm ultra-thin aluminum alloy
magnetic wireless power bank
High-quality texture, the thickness of only 9mm(5000mAh).
Charge Through Your Case
Using a case compatible with the iPhone 12/13/14 series and the correct charging accessories is important to ensure a smooth user experience.
Fast PD Wired Charging
portable charger supports PD20W QC3.0 fast charge
Type-C input/output 20W
Lighting input 12W
15W Fast Wireless Charging
Wireless portable charger supports 5W, 7.5W, 10W and 15W MAX wireless fast charging,

support most devices which built-in wireless charging functions. (PS: Turn on the switch button before the device is wirelessly charged)
Play while charging
Can also magnetically charge 1 device
Charge 2 mobile phones at the same time
SMALL SIZE EASY CARRY
The magnetic power bank design is only 170 grams. it can be easily slipped into your pocket, purse, or pocket. Whether you are at home or traveling outdoors, simply plug your phone into this mini portable charger.
Magnetic wireless + wired charging
power bank 2 in 1
Two modes to meet different needs.
LED digital display screen
LED Display: Real-time power value monitoring, say goodbye to power shortage anxiety.
NEWLY UPGRADED AI CHIP
Newly upgraded AI chip: intelligent cooling, no damage to the phone, no heat

Innovative MTS temperature control: new temperature control technology, real-time temperature control

Smart Transformer: Reduce Chip Loss and Improve Efficiency
Product:
Macsafe Magnetic Wireless Power Bank Portable MacSafe External Spare Battery
Wireless Output:
7.5W/10W/15W
Input interface:
Lightning(12W) Type C (20W)
Type-C output:
5V 2A 9V 2.2A(20W)
battery:
5000mah/10000mah
Size:
104*68*9mm(5000mAh) 104*68*15mm(10000mAh)
NOTE:
1. Press the button to activate Power Bank before using the magnetic charging function.

2. As the magnetic power bank has been hot while charging is normal. In case of overheating, it will automatically reduce the charging speed or stop charging until the temperature drops.

3. Not compatible with non-magnetic phone cases, such as OtterBox defender cases.

4. Wireless charging and mobile power can be used simultaneously to charge different devices.