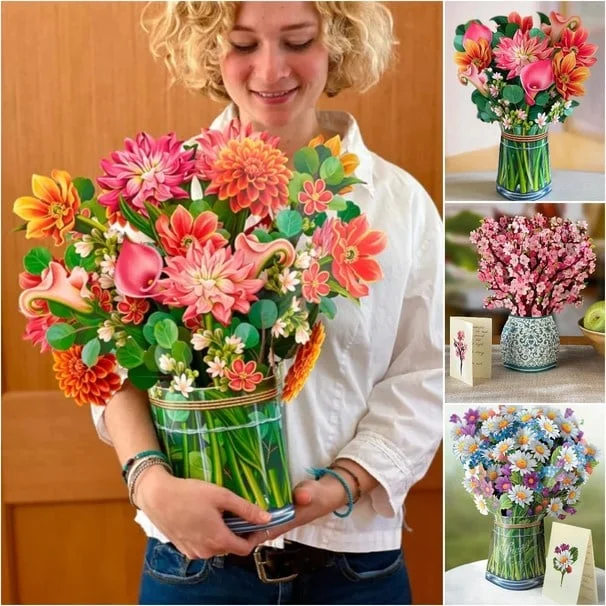 ${data.index + 1}/33
Note:
🎉There is a 10% discount for buying 2 sets or more!
❤️TIPS: All goods are authentic, with genuine patents, counterfeit must be investigated! Customers, please identify our products!
If you bought it and felt that it is not for you, don't worry. Just shoot us a message at contact email, and we will make it right by offering you a replaceme or refund. 100% Simple & Risk-Free process.
📣Limited time 49%OFF.
SHIPPING WORLDWIDE.
💯Payments Via PayPal® and CreditCard.
⭐Fast refund>> Partial or full refund depend on the situation.
Includes: large bouquet, matching bouquet note card, paper vase and vibrant mailing envelope

Measures approximately 17" high x 15" wide

For every bouquet sold, we will plant a tree for you

Pulling out the bouquet will automatically pop open into a three-dimensional shape, which is unique and beautiful.
Pulling out the bouquet will automatically pop open into a three-dimensional shape, which is unique and beautiful.
Give your significant other a bouquet as big as your love!
Dear Dahlia GRAND:This bold and dramatic pop-up bouquet of Dear Dahlia displays a vibrant assortment of calla lilies, dahlias, and eucalyptus. Measuring 17" tall this is sure to make a 'Grand' impression to any lucky recipient.
Field of Daisies:Bountiful Daisies and Wildflowers symbolize freshly gathered in the foothills of Colorado are in full bloom with our latest paper bouquet. This charming pop up bouquet symbolizes friendship and new beginnings. Presented in a classic embossed vase, this bouquet is sure to bring a smile.
Red Roses:This classic FreshCut Paper pop up bouquet boasts a full dozen luscious Red Roses, with a sprinkling of Baby's Breath for the perfect Valentine's Day card.Show your love to your sweeties, crushes, teachers, mothers, kiddos, and cuties with these timeless beauties.
Cherry Blossom:Meet FreshCut Paper's Cherry Blossom bouquet: Elegant, chic, and timeless! Native to Japan, the soft pink sakura petals represent renewal and the wondrous beauty of nature. Unlike in the wild, this charming display will remain in bloom year round accompanied with an ornate paper vase.
English Daffodils:A pop up bouquet Daffodils is a delightful greeting card celebration of uplifting emotions and support. Daffodils are a hardy springtime flower that traditionally symbolize resilience and success. The bright blossoms of this arrangement will outlast normal cut flowers and continue to thrive without any need for water or preservatives. Easy to care for and long-lasting, these flowers will continue to cheer on your special someone for many years to come.
Lilies & Lupines:Majestic Lilies, have long been a symbol of rebirth, are combined with stately Lupines, celebrating the optimism that leads to the discovery of new opportunities, to create a stunning mixed bouquet. A thoughtful gift that bestows warm wishes and encouragement for the future - sentiments that are as enduring as the bouquet itself.
${function(){ const productData = data.product; let product_change_event = '', mouse_over_event = ' '; mouse_out_event = ''; const product_options = productData.options.filter(Boolean) || []; for (let opt of product_options) { product_change_event = product_change_event + `quick-shop-selected-variant-${opt.name}.rerender(data=event.selectedValues.${opt.name});`; mouse_out_event = mouse_out_event + `quick-shop-selected-variant-${opt.name}.rerender(data=event.selectData.${opt.name});`; mouse_over_event = mouse_over_event + `@${opt.name}Mouseover="quick-shop-selected-variant-${opt.name}.rerender(data=event);"`; } const selectedVariant = productData.variants.find(v => v.available) || productData.variants[0]; const statusLan = ((selectedVariant && !selectedVariant.available) || (!selectedVariant && !productData.available)) ? "Sold out" : "Add to cart"; return `

` }()}
${function(){ const currentSelectVariant = data.variant; const defaultVariant = (data.product && data.product.variants && data.product.variants[0]); const variantData = currentSelectVariant || defaultVariant || data; const retail_price = variantData.retail_price || 0; return `
` }()} ${function(){ const wholesale_enabled = false; const qty = data.quantity || 1; const currentSelectVariant = data.variant; const defaultVariant = (data.product && data.product.variants && data.product.variants[0]); const productVariant = {"id":"0e1340ea-3138-4473-ba48-7f62ac150408","product_id":"f11ba1e9-53bb-403f-891b-07a284ad06ef","title":"Dear Dahlia A","weight_unit":"kg","inventory_quantity":1000,"sku":"a-Dear Dahlia A-A0026515","barcode":"","position":1,"option1":"Dear Dahlia A","option2":"","option3":"","note":"","image":{"src":"\/\/img.staticdj.com\/053064b3728dbbccf2acd74510e63e3f.jpeg","path":"053064b3728dbbccf2acd74510e63e3f.jpeg","width":606,"height":606,"alt":"","aspect_ratio":1},"wholesale_price":[{"price":15.98,"min_quantity":1}],"weight":"0","compare_at_price":"31.33","price":"15.98","retail_price":"31.33","available":true,"url":"\/products\/pop-up-flower-bouquet-greeting-card?variant=0e1340ea-3138-4473-ba48-7f62ac150408","available_quantity":1000,"options":[{"name":"Style","value":"Dear Dahlia A"}],"off_ratio":49,"flashsale_info":[],"sales":0}; const variantData = currentSelectVariant || defaultVariant || productVariant; const wholesale_price = variantData.wholesale_price || []; if(wholesale_enabled && wholesale_price.length > 0) { let wholesaleIndex = wholesale_price.findIndex(item => { return item.min_quantity > qty; }); if(wholesaleIndex < 0){ wholesaleIndex = wholesale_price.length - 1; }else if(wholesaleIndex > 0){ wholesaleIndex = wholesaleIndex - 1; } const wholesalePrice = wholesale_price[wholesaleIndex] || ''; return `
` }else { return `
` } }()}
${function() { let variantImageShowed = false; const currentProduct = data.product; return (currentProduct.options || []).map((option, index) => { const optionName = option.name || ''; const position = `option${index + 1}`; let isThumbImage = false; if (currentProduct.need_variant_image && !variantImageShowed) { const variantNames = ["color"] || []; for (let i = 0, len = variantNames.length; i < len; i++) { const name = variantNames[i].toLowerCase(); if (name === optionName.toLowerCase()) { isThumbImage = true; variantImageShowed = true; } } } const variantType = "button"; const thumbStyle = "image_with_text"; return `
` }).join(''); }()}
${data.originData && data.originData.value || data.value}
${function(){ const productData = data.product; let product_change_event = '', mouse_over_event = ' '; mouse_out_event = ''; const product_options = productData.options.filter(Boolean) || []; for (let opt of product_options) { product_change_event = product_change_event + `quick-shop-selected-variant-${opt.name}.rerender(data=event.selectedValues.${opt.name});`; mouse_out_event = mouse_out_event + `quick-shop-selected-variant-${opt.name}.rerender(data=event.selectData.${opt.name});`; mouse_over_event = mouse_over_event + `@${opt.name}Mouseover="quick-shop-selected-variant-${opt.name}.rerender(data=event);"`; } const selectedVariant = productData.variants.find(v => v.available) || productData.variants[0]; const statusLan = ((selectedVariant && !selectedVariant.available) || (!selectedVariant && !productData.available)) ? "Sold out" : "Add to cart"; return `

` }()}
${function(){ const currentSelectVariant = data.variant; const defaultVariant = (data.product && data.product.variants && data.product.variants[0]); const variantData = currentSelectVariant || defaultVariant || data; const retail_price = variantData.retail_price || 0; return `
` }()} ${function(){ const wholesale_enabled = false; const qty = data.quantity || 1; const currentSelectVariant = data.variant; const defaultVariant = (data.product && data.product.variants && data.product.variants[0]); const productVariant = {"id":"0e1340ea-3138-4473-ba48-7f62ac150408","product_id":"f11ba1e9-53bb-403f-891b-07a284ad06ef","title":"Dear Dahlia A","weight_unit":"kg","inventory_quantity":1000,"sku":"a-Dear Dahlia A-A0026515","barcode":"","position":1,"option1":"Dear Dahlia A","option2":"","option3":"","note":"","image":{"src":"\/\/img.staticdj.com\/053064b3728dbbccf2acd74510e63e3f.jpeg","path":"053064b3728dbbccf2acd74510e63e3f.jpeg","width":606,"height":606,"alt":"","aspect_ratio":1},"wholesale_price":[{"price":15.98,"min_quantity":1}],"weight":"0","compare_at_price":"31.33","price":"15.98","retail_price":"31.33","available":true,"url":"\/products\/pop-up-flower-bouquet-greeting-card?variant=0e1340ea-3138-4473-ba48-7f62ac150408","available_quantity":1000,"options":[{"name":"Style","value":"Dear Dahlia A"}],"off_ratio":49,"flashsale_info":[],"sales":0}; const variantData = currentSelectVariant || defaultVariant || productVariant; const wholesale_price = variantData.wholesale_price || []; if(wholesale_enabled && wholesale_price.length > 0) { let wholesaleIndex = wholesale_price.findIndex(item => { return item.min_quantity > qty; }); if(wholesaleIndex < 0){ wholesaleIndex = wholesale_price.length - 1; }else if(wholesaleIndex > 0){ wholesaleIndex = wholesaleIndex - 1; } const wholesalePrice = wholesale_price[wholesaleIndex] || ''; return `
` }else { return `
` } }()}
${function() { let variantImageShowed = false; const currentProduct = data.product; return (currentProduct.options || []).map((option, index) => { const optionName = option.name || ''; const position = `option${index + 1}`; let isThumbImage = false; if (currentProduct.need_variant_image && !variantImageShowed) { const variantNames = ["color"] || []; for (let i = 0, len = variantNames.length; i < len; i++) { const name = variantNames[i].toLowerCase(); if (name === optionName.toLowerCase()) { isThumbImage = true; variantImageShowed = true; } } } const variantType = "button"; const thumbStyle = "image_with_text"; return `
` }).join(''); }()}
${data.originData && data.originData.value || data.value}